In 2020, KP asked more of health care workers than ever before. Throughout the COVID pandemic, we gave high-quality patient care and service in spite of PPE shortages and a lack of planning, systems, and protocols. Now as we are trying to recover from the stress and horror of the pandemic, KP is saying our wages are too high.
The writing is on the wall. First, Kaiser Permanente presented cherry-picked data to allege our wages are too high compared to the community. Then, when we explained to new KP managers that the bedrock of our Labor Management Partnership (LMP) is best care and best jobs, they tried to revise it to best care and average jobs.
While KP hasn't yet presented us a proposal for the "affordability" solutions they seek, we know what they'll look like. We sacrificed and risked – and in some cases lost – our lives during the pandemic. We will not settle for average jobs. And we don't need to—there are many ways to address affordability if we work in partnership.
"This is a remarkably profitable, successful employer, with a workforce trying to emerge from the worst pandemic in memory – and our members have made that success possible," said Alliance Executive Director Hal Ruddick. "We expect our members' contributions to KP's success and our extraordinary dedication over the last 15 months to be recognized with wage and benefit improvements."
"After the year we've been through, management's posture is hard to believe. It's time for Alliance members to send a clear message to Kaiser Permanente leadership by taking action on June 28-30," said UNAC/UHCP President Denise Duncan, RN.
At the most recent meeting of the national bargaining economic subcommittee on
Monday, June 14, Alliance leaders shared three overarching interests on benefits: preserve industry-leading benefits, raise standards for regions or bargaining units with substandard benefits, and expand the benefit package to address new challenges and opportunities. Our bargaining team presented a comprehensive, fact-based, and interest-based overview of options for improving benefits in targeted areas of opportunity, including medical plans, increased tuition reimbursement, retiree medical, help for employees with student debt, assistance with citizenship classes and fees, and other areas.
Help with student loans: More and more employers – like Aetna, Google, and Staples – are taking advantage of the COVID relief bill that allows them to provide employees with tax-free assistance paying off their student loan debt. In fact, KP already offers the benefit to a small group of employees.
Increased tuition reimbursement: Alliance members' tuition reimbursement cap  has not increased in six years. Improving this benefit will help workers improve our living standards, while also helping KP prepare workers for the jobs of the future in an increasingly competitive environment.
Aid upward mobility: Alliance members who use KP programs to upgrade their degrees or certifications frequently find they cannot put their new skills to work inside KP due to experience requirements. This barrier could be addressed with a partnership solution.
In recent bargaining years, we've made progress in making benefits more equitable and consistent across the organization, but gaps remain. "In spite of the progress we've made, KP employees in Washington state still have benefits far below the rest of the enterprise," said Cathy Macphail, UFCW Local 21 Negotiator. "It's great the Alliance is working with us to close the gap on our members' benefits."
"Outstanding benefits have been a hallmark of Kaiser Permanente and the labor management partnership, and a proven way to attract and retain skilled employees. This will be more important in the coming years as the shortage of health care workers intensifies," said Micheal Barnett, president of USW 7600.
Take Action June 28-30: Sticker Selfie Action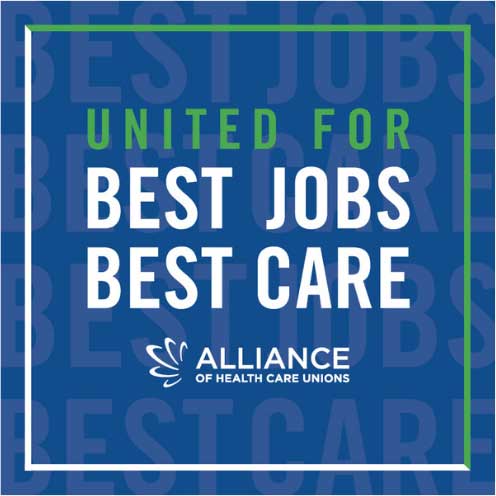 Stand up for best jobs and best care! On June 28-30, wear the "United for Best Jobs Best Care" sticker and post a selfie on social media with the hashtag #BestJobsBestCare.