Earlier this week, Giant announced a one-time "appreciation" bonus in the amount of $300 for full-timers and $150 for part-timers. The bonuses will appear in the first November paychecks of all hourly associates hired by September 22, 2020 and actively employed through the first week of November.
While Giant has refused to even open negotiations over hazard pay with UFCW Locals 400 and 27, Stop & Shop, which is owned by the same parent company, has not only agreed to open negotiations on a hazard pay deal, the company and the union just agreed to provide retroactive premium pay to all store associates – in the form of lump sum payments equal to 10 percent of all hours worked between July 5, 2020 and August 22, 2020.
This is an outrage. There is no reason why Stop & Shop can sit down and hammer out a deal for its workers while Giant refuses to even open discussions with us.
UFCW Local 400 President Mark Federici, together with President Jason Chorpenning of UFCW Local 27 in Baltimore, sent the following letter to Ira Kress, President of Giant demanding he open bargaining over hazard pay for our members.
Read the full text of the letter below: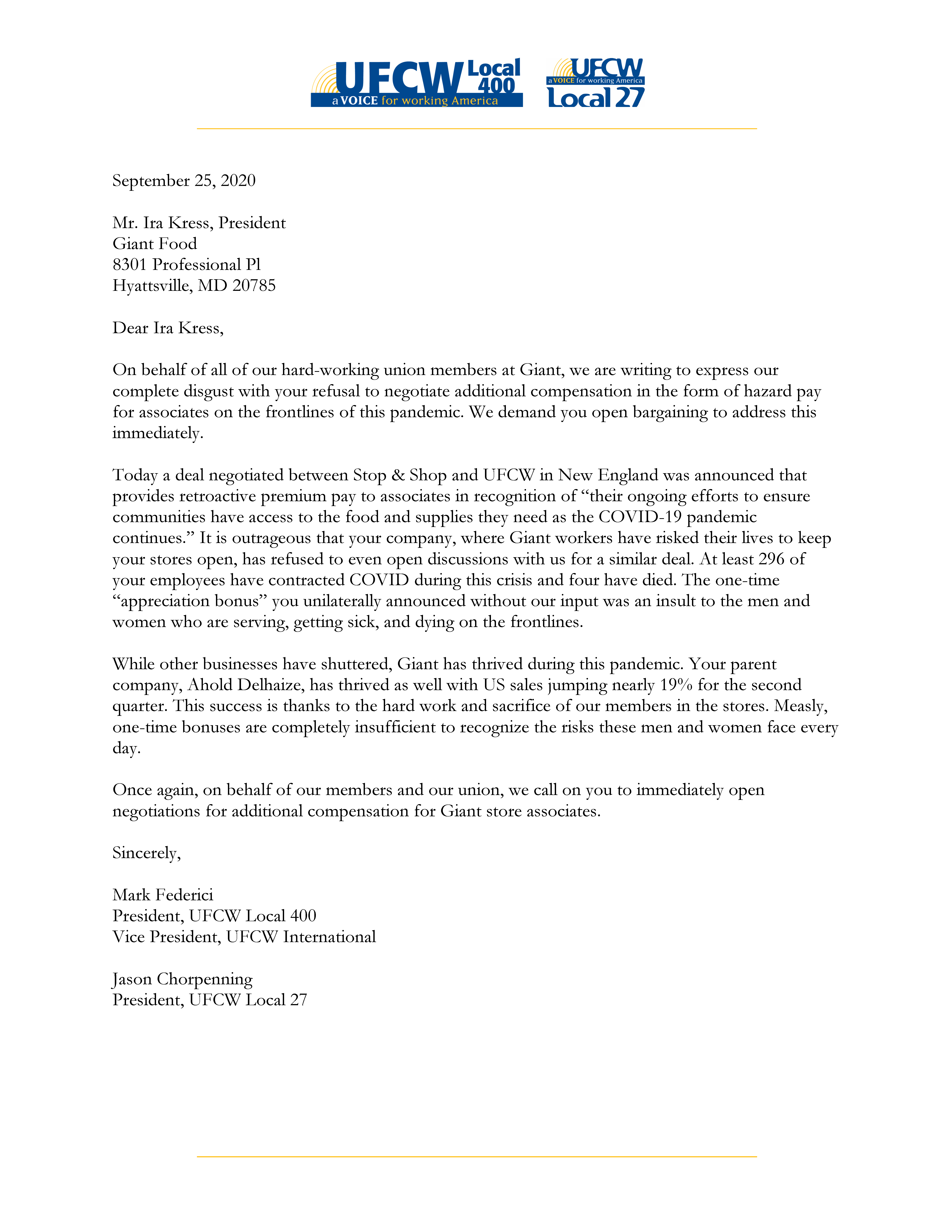 Dear Ira Kress,
On behalf of all of our hard-working union members at Giant, we are writing to express our complete disgust with your refusal to negotiate additional compensation in the form of hazard pay for associates on the frontlines of this pandemic. We demand you open bargaining to address this immediately.
Today a deal negotiated between Stop & Shop and UFCW in New England was announced that provides retroactive premium pay to associates in recognition of "their ongoing efforts to ensure communities have access to the food and supplies they need as the COVID-19 pandemic continues." It is outrageous that your company, where Giant workers have risked their lives to keep your stores open, has refused to even open discussions with us for a similar deal. At least 296 of your employees have contracted COVID during this crisis and four have died. The one-time "appreciation bonus" you unilaterally announced without our input was an insult to the men and women who are serving, getting sick, and dying on the frontlines.
While other businesses have shuttered, Giant has thrived during this pandemic. Your parent company, Ahold Delhaize, has thrived as well with US sales jumping nearly 19% for the second quarter. This success is thanks to the hard work and sacrifice of our members in the stores. Measly, one-time bonuses are completely insufficient to recognize the risks these men and women face every day. 
Once again, on behalf of our members and our union, we call on you to immediately open negotiations for additional compensation for Giant store associates.
Sincerely,
Mark Federici
President, UFCW Local 400
Vice President, UFCW International
Jason Chorpenning
President, UFCW Local 27