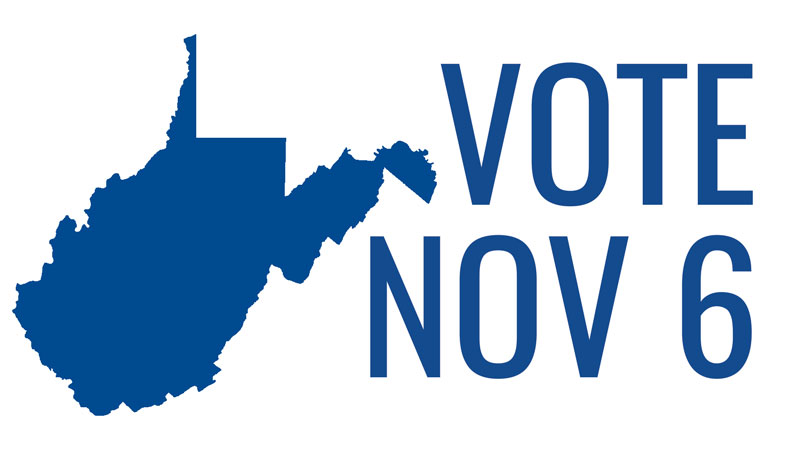 West Virginia's general election is on Tuesday, November 6, 2018. We must vote to change our current legislative leadership's war on working families which has stifled workers' voices, lowered wages, and made workplaces less safe.
It is vital that you vote in the election Tuesday,November 6, 2018. Your vote is a personal decision. As your union, it is our job to recommend candidates who share our values and will fight to make a better life for our union family. We have endorsed the following candidates for office because we believe they will fight to turn around the anti-worker, anti-union legislature in West Virginia.
Check your registration status!
The West Virginia Secretary of State's office has purged more than 100,000 voters this year. Take a minute right now to check your voter registration status online at the following link: http://bit.ly/WVvoter
Don't know where to vote?
You can look up your registration status and find your polling location by visiting  the WV Secretary of State website at this link: https://services.sos.wv.gov/Elections/Voter/FindMyPollingPlace
UFCW Local 400 West Virginia 2018 Voter Guide
U.S. Senate:
DEM. JOE MANCHIN
U.S. House Of Representatives:
1ST CONGRESSIONAL DISTRICT
No Endorsement
2ND CONGRESSIONAL DISTRICT
DEM. TALLEY SERGENT
3RD CONGRESSIONAL DISTRICT
DEM. RICHARD OJEDA
State Senate:
2ND SENATORIAL DISTRICT
DEM. DENNY LONGWELL
3RD SENATORIAL DISTRICT:
DEM. JAMES LEACH
4TH SENATORIAL DISTRICT
DEM. BRIAN PRIM 
5TH SENATORIAL DISTRICT
DEM. MIKE WOELFEL
6TH SENATORIAL DISTRICT
DEM. CHARLES SAMMONS
7TH SENATORIAL DISTRICT
DEM. RON STOLLINGS 
8TH SENATORIAL DISTRICT
DEM. RICHARD LINDSAY
10TH SENATORIAL DISTRICT
DEM. STEPHEN BALDWIN
11TH SENATORIAL DISTRICT
REP. BILL HAMILTON
12TH SENATORIAL DISTRICT
DEM. MIKE ROMANO
13TH SENATORIAL DISTRICT
DEM. BOB BEACH
14TH SENATORIAL DISTRICT
DEM. STEPHANIE ZUCKER 
17TH SENATORIAL DISTRICT
DEM. TERRELL ELLIS 
State House Of Delegates:
7TH HOUSE DISTRICT
DEM. LISSA LUCAS
8TH HOUSE DISTRICT
DEM. DAVID BLAND
9TH HOUSE DISTRICT
DEM. JIM MARION
 10TH HOUSE DISTRICT
DEM. ANDY DANIEL
DEM. J.MORGAN LEACH
DEM. HARRY DEITZLER 
12TH HOUSE DISTRICT
DEM. MISSY MORRIS
13TH HOUSE DISTRICT
DEM SCOTT BREWER
14TH HOUSE DISTRICT
DEM. BRIANNE SOLOMON
16TH HOUSE DISTRICT
DEM. SEAN HORNBUCKLE
DEM. MATT SPURLOCK
REP. VERA MILLER
17TH HOUSE DISTRICT
DEM. CHAD LOVEJOY
REP. MATTHEW ROHRBACH
18TH HOUSE DISTRICT
DEM. KAREN NANCE
19TH HOUSE DISTRICT
DEM. KEN HICKS
DEM. ROBERT THOMPSON
21ST HOUSE DISTRICT
DEM. PHYLIS WHITE
22ND HOUSE DISTRICT
DEM. GARY MCCALLISTER
REP. ZACK MAYNARD
23RD HOUSE DISTRICT
DEM. RODNEY MILLER
24TH HOUSE DISTRICT
DEM. RALPH RODIGHIERO
DEM. TIMOTHY TOMBLIN 
26TH HOUSE DISTRICT
DEM. ED EVANS
29TH HOUSE DISTRICT
DEM. RICK MOYE
31ST HOUSE DISTRICT
DEM. RICHARD "RICK" SNUFFER ll
32ND HOUSE DISTRICT
DEM. MARGARET ANNE STAGGERS
DEM. MELL KESSLER
DEM. LUKE LIVELY
33RD HOUSE DISTRICT
DEM. DAVID A WALKER
34TH HOUSE DISTRICT
DEM. BRENT BOGGS
35TH HOUSE DISTRICT
DEM. ANDREW BYRD
DEM. RENATE PORE
DEM. JAMES ROBINETTE
DEM. DOUG SKAFF JR.
36TH HOUSE DISTRICT
DEM. LARRY ROWE
DEM. ANDREW ROBINSON
DEM. AMANDA ESTEP-BURTON
37TH HOUSE DISTRICT
DEM. MIKE PUSHKIN
38TH HOUSE DISTRICT
DEM. TOM TULL
39TH HOUSE DISTRICT
DEM. DAVID "WOODY" HOLMES
40TH HOUSE DISTRICT
DEM. MELISSA HUFFMAN
47TH HOUSE DISTRICT
DEM. FRANK "ED" LARRY
51ST HOUSE DISTRICT
DEM. BARBARA FLEISCHAUER
DEM. EVAN HANSON
DEM. RODNEY PYLES
DEM. DANIELLE WALKER
DEM. JOHN WILLIAMS
52ND HOUSE DISTRICT
DEM. GARY KNOTTS
53RD HOUSE DISTRICT
DEM. CORY CHASE