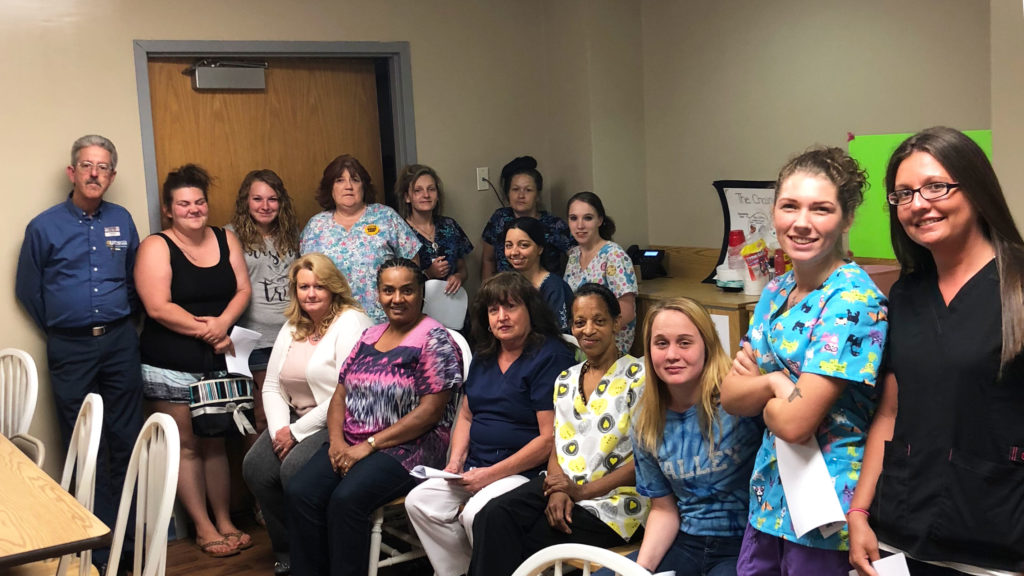 Local 400 members working at the Montgomery General Elderly Care Center in Montgomery, W.Va. recently ratified a strong new union contract after months of difficult, rancorous negotiations.
At the start of negotiations, management presented a list of 34 takeaway proposals.  These included eliminating the workers' pension, reducing health benefits, cutting vacation time and taking away two holidays.
Needless to say, the workers were having none of it.
"I've worked for this company for 30 years and this was the third bargaining I've been involved with," said Pam Barron, a Local 400 shop steward who works in housekeeping/environmental services. "This was by far the toughest set of negotiations, but in the end, we turned it around."
The workers stood strong in solidarity in opposing Montgomery General's extreme demands. On Fridays, they are allowed to wear t-shirts to work, so every Friday during bargaining, they wore their Local 400 t-shirts, hats and buttons. They also wore their Local 400 t-shirts to the company picnic.
"Everyone was wonderful and once the company saw we were strong, that helped out," Pam said. "If we hadn't gotten a deal, we were ready to strike, too. Cynthia Davis, our other shop steward, was terrific, keeping us all together, fired up and ready to act.
"I think the company also finally realized how hard we work and how dedicated we are," Pam added. "That's what led to our contract."
The final agreement provides for a three percent raise, and it maintained the workers' pension, holidays and vacations.
"This is a good company and they've been good to me," Pam said. "I just thank God we got through this and hopefully, we won't have to again. I'm also thankful for our union, which was wonderful every step of the way."