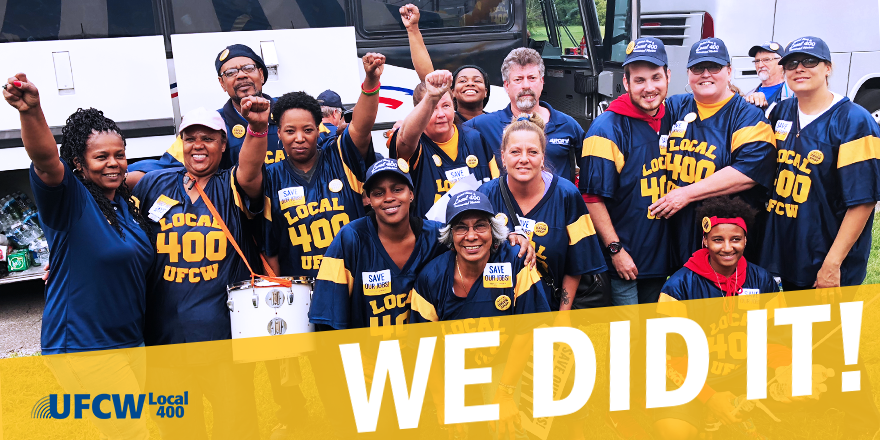 We are pleased to announce that Kroger has agreed to allow all interested associates at store #536 in Norfolk to transfer to the former Farm Fresh across the street if and when it reopens as a Kroger store.
If you refused to be silent, if you signed a petition, if wrote a letter, if you joined a protest – this would not have happened without you.
Kroger says it still hasn't finalized plans, but the company has signed a legally binding agreement that protects your jobs in the event the store closes:
If Kroger closes store #536 and opens the former Farm Fresh store within six months, then you may transfer to the newly opened store if you choose.
You will not have to quit and reapply for your job.
As we've always said, "together, we can make Kroger better." And make no mistake – we did this together. By sticking together as a union family, we successfully protected our jobs.
Now we must turn our attention to our next contract. We want a fair contract with better pay, affordable healthcare, and respect for our union. But this won't be easy. We must continue to stick together to make Kroger better and get the fair contract we deserve. We know we can do it.
Joint Statement from Kroger & UFCW Local 400
The following statement was released jointly by Kroger & UFCW Local 400 on July 17, 2018:
Kroger Mid-Atlantic and UFCW Local 400 Reach Agreement Regarding Store #536

We are pleased to share that after some discussion, Kroger Mid-Atlantic and UFCW Local 400 have reached an agreement regarding the potential opening of Store #576 located at 230 East Little Creek Road, and its possible impact on current associates at Store #536 in Norfolk, VA.

At this time, the Company has not finalized plans for opening Store #576, nor has it made a decision to close Store #536.

In the event that Kroger Mid-Atlantic decides to close Store #536 and open Store #576, the Company and the union have agreed to transfer all interested associates to the newly opened store. This agreement is good for a period of time up to six months after the potential closing of Store #536.

Kroger Mid-Atlantic and the union commit to communicate with you when decisions are made.