Next time you see a fellow union member, take a second to high-five and celebrate the largest growth in membership in 28 years.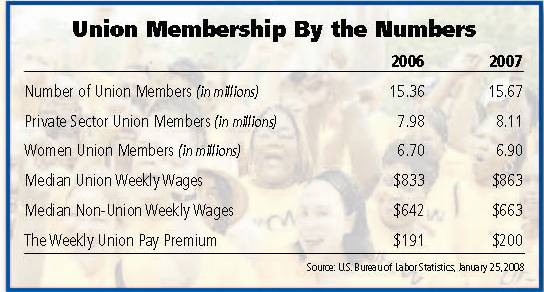 Union membership in the United States increased to 15.7 million in 2007 – an increase of 311,000 members – making 2007 single-year increase in membership since 1979, according to a report released last week by the Bureau of Labor Statistics. 

These numbers are a reflection of workers' enthusiasm to unionize. According to research by Peter Hart Research Associates, more than half of all workers about 60 million people – say they would join a union today if given the chance.

The BLS report shows that despite a lagging economy, executive salaries growing exponentially, and a loss of more than 3 million jobs due to the North American Free Trade Agreement, American workers are willing to stand and fight. 

Service industry jobs reported the largest percentage of growth, specifically health services, which added 142,000 new members. Significant gains were also made among women and Latino workers. 

Women are exercising their voice in the workplace, accounting for more than 44 percent of union membership. And Latino workers are seeing the rewards of unionizing in the place it matters most – their wallets. Average weekly pay for unionized Latino workers was 51 percent more than their non-unionized counterparts.
###
American Union Ranks Grow After 'Bottoming Out'
First Significant Increase in 25 Years
January 29, 2009
Washington Post (complete article)
By Peter Whoriskey
The percentage of American workers belonging to a union jumped in 2008, the first statistically significant increase in the 25 years that the figure has been reported, reversing a long decline in union membership.